Interior Bark Wall Finishes & Exterior Bark Shingle Siding
Rediscover The Forest Through Bark House® Bark Wall Coverings
Set the designer in you free with Bark House luxury interior bark wall coverings and exterior bark shingle siding.  The rich textures of birch, cherry, pine, and poplar bark provide a wide color pallet of masterfully crafted products to choose from.  Bark House craftsmen carefully remove tree bark after the tree is harvested in a sustainable and regenerative process that's part of the One Forest Regenerative Project focused on Southern Appalachia.
Click on any of the products above to quickly explore the application options and design possibilities.  Let the experts at Bark House ensure your vision comes to life.  Nothing substitutes the unique look and feel of real bark.
Keep reading for an overview of what makes Bark House products different.
Eco-friendly bark wall coverings and bark shingles exude luxury and natural warmth
Bark wall finishes are handcrafted.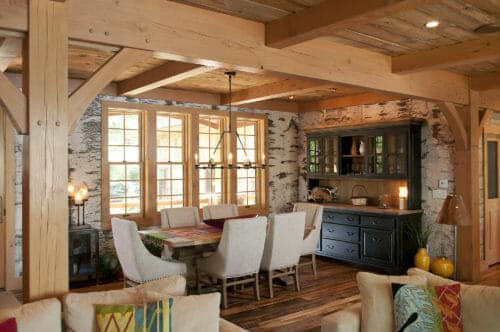 Consider Bark House's white birch panels.  These gorgeous, wall finishes are created lovingly, with a dizzying amount of time and attention to detail.  Our lead craftsman has championed this craft for fifteen years.  He apprenticed under company co-founder and product designer, Marty McCurry, and teaches other craftsmen in the same time-proven, client approved techniques.  The result is a one-of-a-kind natural wall finish created through a close relationship between the human touch and Appalachian forests.
Bark wall finishes are beautiful.
Bark wallcoverings are desired because they are beautiful and unlike anything else on the market.  It is easy to get lost gazing at the rough texture, the natural whorls, and the subtle colors of this visual feast. Keep in mind that eco-friendly wall finishes begin as recycled waste as part of an Appalachian forest restoration project. To our mind, this only elevates the beauty of the finished, sophisticated bark products.
Bark wall finishes exude luxury.
Whether used as a small focal point of natural texture, an accent wall, or a soft transition from the outdoors to interior spaces, eco-friendly bark wall finishes exude a luxuriously magical quality. Because Bark House created the process of hand crafting to maintain their natural bark texture rather than being manufactured as a paltry substitute to look like bark, these wall finishes do not merely act as unique aesthetic accessories—they truly are unique.
Bark wall finishes are regeneratively aimed.
Bark House wallcoverings are regenerative as they have an innate capacity in welcoming humans to discover more about nature and our own nature.  People experience a real and personal connection to them.  They have to touch them and in the process are touched by them.  Bark House has an absolute commitment to honor the trees and the forest, and to honor the giving capacity that we all have within.  We are dedicated to the enlivenment of a regenerative process at every level of our business and manufacturing practice.
By using a wall finish that is eco-friendly, handcrafted, and beautiful, architects can elevate interiors to a level that surpasses current sustainability standards, transcends client expectations, and provides a peek into the next generation of modern design.
There is no substitute for touching Bark House® products yourself
---
Bark House is the original bark siding and bark wall covering design-manufacturer
Operating for 30-years, we offer beautiful wall finishes that do more than just look good, they are good.  As a regeneratively-aimed company, our products have an intrinsic value that nurtures inhabitants worldwide, while improving forests, and supporting personal development in Appalachia. Bark House has initiated the One Forest Regenerative Project currently focusing on forests in Southern Appalachia.
The company has been awarded as a B-Corp Best for the World, Buckminster Fuller Catalyst, and Regenerative company. Bark House products earned the world's first Cradle to Cradle PLATINUM Certification, Architectural Record Product of the Year, and were a John Ruskin Prize finalist.